ALTA VIA DEI MONTI LIGURI
HIGH PATH OF LIGURIAN MOUNTAINS
(438 km; +15000 m; -15400 m)
Il Percorso e le Carte Escursionistiche / Route and Hiking Maps
---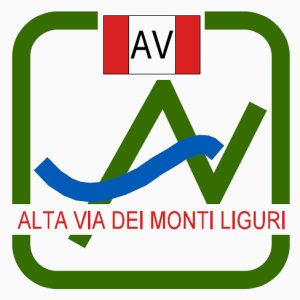 ---
---
IL PERCORSO IN POCHE FRASI / SOME WORDS ABOUT PATH

L'Alta Via dei Monti Liguri (AVML) e' un itinerario escursionistico di circa 450 km che, in 43 tappe percorre tutto il crinale ligure.
Ufficialmente questo percorso viene descritto con partenza da Ventimiglia a arrivo a Ceparana (La Spezia), ma forse e' piu' logico percorrerlo in senso inverso quindi da Ceparana verso Ventimiglia, iniziando a camminare lungo i dolci crinali della Val di Vara lasciando la parte piu' alpina e spettacolare dell'itinerario alla fine.
Tutto il percorso transita su sterrate e facili sentieri di norma sempre ben segnalati e agibili.
Il segnavia che si incontra e' costituito da una bandierina rosso-bianco-rosso con al centro la scritta AV.


I posti Tappa sono situati presso strade carrozzabili o dove, tramite facili sentieri di raccordo, e' possibile raggiungere i paesi vicini dove e' possibile trovare alloggio.
Questo permette di percorrere l'Alta Via dei Monti Liguri anche solo per tratti parziali, potendo anche realizzare interessanti anelli concatenando gli altri sentieri presenti.
Lungo tutta l'Alta Via dei Monti Liguri sono quasi sempre presenti strutture ricettive, a volte raggiungibili effettuando brevi deviazioni, che permettono di percorrere l'itinerario in piu' giorni senza difficolta'.
Ovviamente e' anche possibile effettuare l'itinerario in parziale o totale autonomia portando tenda e viveri nello zaino.
Questo lungo itinerario e' in linea di massima percorribile in 18-25 giorni, considerando di percorrere tra i 20 e i 30 km al giorno e di effettuare un paio di giorni di riposo.
Un tragitto di lunga percorrenza che attraversa tutti i principali ambienti liguri passando all'interno di molti Parchi Naturali.

The High Path of the Ligurian Mountains (AVML) is a hiking trail of about 450 km which, in 43 stages travel along all the Ligurian ridge.
Officially, this path is described starting from Ventimiglia and arriving in Ceparana (La Spezia), but it is more logical to follow it in reverse so as Ceparana towards Ventimiglia, starting to walk along the gentle ridges of the Val di Vara leaving the most Alpine and spectacular section of the route in the end.
Entire route passes on dirt and easy walking paths, usually well-signed and useable.
The trail sign we find is made up of a red-white-red flag with a central AV written.


Each stops end is placed where there is a main roads or where, through easy connecting paths, you can reach the neighboring villages where it is possible to find accommodation.
This allows you to walk along the High Way of the Ligurian Mountains even for limited sections, and it is also possible to make interesting loops-trails concatenating the other foot-paths present.
All along the High Path of the Ligurian Mountains are almost always present accommodation, sometimes reachable making short detours, which allow you to travel the route in several days without difficulty.
Of course you can also make the itinerary in partial or total autonomy carrying tents and food in your backpack.
This long itinerary is, in general, feasible in 18-25 days, covering between 20 and 30 km per day and to make a couple of days of rest.
A long-distance route that crosses all major Ligurian environments passing inside many Natural Parks.
---
ATTENZIONE / WARNING

ATTENZIONE: questo percorso non è sempre sottoposto a costante e periodica manutenzione con ripristino dei segnavia deteriorari e pulizia dei sentieri. Tale situazione potrebbe rendere questo tracciato non sempre evidente e facile da seguire.

Per questo motivo RACCOMANDO VIVAMENTE DI EFFETTUARE L'ITINERARIO MUNITI DI IDONEA CARTOGRAFIA E/O DI DESCRIZIONE DETTAGLIATA DEL PERCORSO.

WARNING: this path is not always subjected to constant and periodic maintenance with remaking of the damaged trail markers and cleaning of the pedestrian paths. This situation could make this path not always evident and easy to follow.

For this reason I STRONGLY RECOMMEND YOU TO CARRY OUT THE ITINERARY WITH SUITABLE CARTOGRAPHY AND / OR DETAILED DESCRIPTION OF THE ROUTE.
---
---
LE CARTE ESCURSIONISTICHE DEL PERCORSO / HIKING MAPS OF ROUTE

Per questo lungo itinerario ho realizzato la Cartografia Escursionistica di dettaglio di tutto il percorso.
Si tratta di una serie di carte di tipo Escursionistico, appartenenti alla mia collana mini MAPPE OUTDOOR ACTIVITIES, in scala 1:25.000 costituite da 41 tavole formato A3.
Su ogni tavola, oltre ai vari sentieri escursionistici, sono presenti indicazioni su:
- Il percorso ALTA VIA DEI MONTI LIGURI
- I vari luoghi che si incontrano lungo l'itinerario
- Dove e' possibile fermarsi per mangiare e per dormire

TRACCIA GPS
Oltre alla Carte Escursionistiche ho anche realizzato la traccia GPS di tutto il percorso, che e' disponibile su specifica richiesta.
Sei interessato alle carte di dettaglio e/o aulla traccia GPS di questo percorso? CONTATTAMI!

For this long journey I made the detailed Hiking Maps of the entire route.
They are Hiking Maps type mini MAPPE OUTDOOR ACTIVITIES in scale 1:25.000, and they consist of 41 Map-Sheets size A3.
On each Map-Sheet, as well as various hiking trails, there are indications of:
- All HIGH PATH OF LIGURIAN MOUNTAINS
- Places you meet along the route
- Where you can stop to eat and to sleep

GPS TRACK
In addition to detailed maps, I also created the GPS track of the full path, which is available on request.
Are you interested about hiking maps and/or GPS track of this route? WRITE ME!
---

Per accedere alla pagina relativa seleziona l'area geografica dalla carta o dall'elenco sotto.

To view dedicated web-page select the geographic area from below map or list.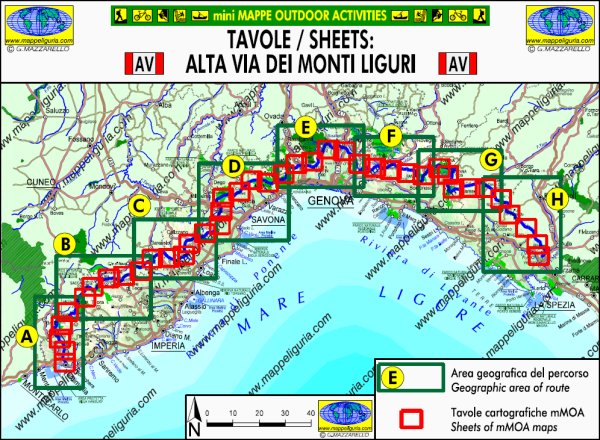 ---
---
LIBRETTO CON LA DESCRIZIONE DEL PERCORSO
BOOKLET WITH THE DESCRIPTION OF THE ROUTE
IN ITALIANO E IN INGLESE / IN ITALIAN AND IN ENGLISH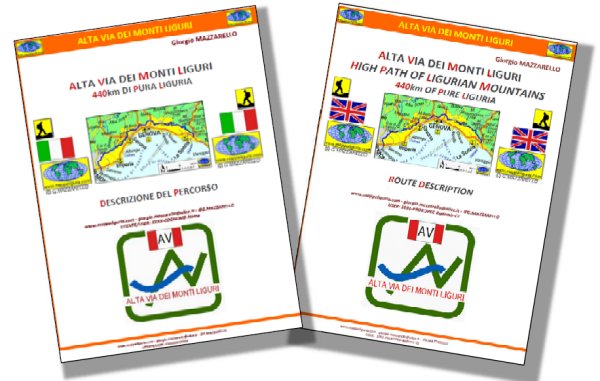 Oltre alla cartografia ho anche realizzato un libretto formato A5 di circa 100 pagine con la descrizione Passo-Passo di tutto il percorso da Ventimiglia a Ceparana.
La descrizione prevede di svolgere tutto il percorso in 20 giorni + 2 o 3 giorni di riposo.
Nel libretto, oltre alla descrizione passo passo del percorso (con direzione da Ventimiglia a Ceparana), sono indicati anche:
. tutte le strutture ricettive dove è possibile pernottare
. tutti i punti dove è possibile rifornirsi di generi alimentari
. tutte i punti dove è possibile rifornirsi di acqua
. tutti i punti dove sono presenti rifugi gestiti o ripari utili in caso di emergenza
. tutti i punti dove è possibile effettuare pernotti autogestiti (in tenda o in rifugi/bivacchi aperti non gestiti)
. tutti i sentieri di raccordo che permettono di raggiungere i villaggi vicini al percorso e vice-versa.
Questo libretto è disponibile su specifica richiesta.
Sei interessato al libretto di questo percorso? CONTATTAMI!

In addition to the maps, I also made an A5 size booklet of about 100 pages with the Step-by-Step description of the entire route from Ventimiglia to Ceparana.
In the description it is foreseen to complete the entire route in 20 days + 2 or 3 days of stop to rest.
Inside the booklet, in addition to the step by step description of the route (from Ventimiglia to Ceparana direction), following items are also indicated:
. all accommodation facilities where it is possible to stay overnight
. all points where it is possible to stock up on food
. all points where it is possible to stock up on water
. all points where there are managed shelters or bivouacs useful in case of emergency
. all points where it is possible to make self-managed overnight stays (in tents or in unmanaged open shelters / bivouacs)
. all the connecting paths that allow you to reach the villages close to the route and vice-versa.
This booklet is available upon specific request.
Are you interested about the booklet of this route? WRITE ME!
---
---