Itinerari TREKKING - Liguria
TREKKING routes - Liguria

Liguria-001
Il cammino per Santiago di Compostela in Liguria - "Via della Costa"
The Way of Compostela in Liguria - "Via della Costa"
Tratto ligure del Pellegrinaggio da Roma a Santiago di Compostela
Ligurian section of the Pilgrimage from Roma to Santiago de Compostela
---

DATA/DATE

2013-2016

---

NOTE GENERALI / GENERAL NOTES

La "Via della Costa" rappresenta il tratto ligure del pellegrinaggio che da Roma raggiunge Santiago di Compostela. Si tratta di un lungo percorso di 340 km circa, prettamente costiero che transita in parte su sentieri escursionistici e in parte sulla viabilita' ordinaria (spesso pedonale) dei vari borghi e citta' costiere liguri.
Per chi e' abituato a camminare in montagna, a prima vista puo' apparire un itinerario forse troppo cittadino e stradale, ma e' studiato per ripercorrere un antico pellegrinaggio, adattando il tracciato all'attuale viabilita', raggiungendo molti dei luoghi religiosi (chiese-conventi-santuari) toccati dai pellegrini del passato, che sono situati lungo la costa, e che spesso sono all'interno dei centri abitati.
Comunque non mancano parecchi tratti di tipo escursionistico, che raggiungono luoghi di culto situati fuori dai centri abitati, in spledida posizione incastonata tra le montagne e il mare.
Piu' che un trekking e' da considerare un'esperienza di vita, da fare a passo lento e con la giusta sintonia spirituale, per poter assaporare e vivere pienamente da pellegrino. Si pernotta in strutture religiose semplici ma accoglienti, dove i pellegrini sono sempre ospitati.
Le carte che ho realizzato per questo itinerario sono molto dettagliate e permettono perfettamente di effettuare il percorso in completa autonomia, ma chi desidera essere un vero pellegrino del terzo millennio, seguendo e rispettando tutte le regole, consiglio anche di approfondire le informazioni e le consuetudini sul sito di Calcagno e Rocchi
viadellacosta.it

The "Via della Costa" is the Ligurian stretch of the pilgrimage from Rome reach Santiago de Compostela. This route is a long journey of about 340 km, which runs along the coast and passes partly on hiking trails and in part on ordinary roads (often pedestrian) of the various villages and Ligurian coastal towns.
For those accustomed to walking in the mountains, the "Way of the Coast" at first glance may seem a route perhaps too citizen and road too, but is designed to retrace the ancient pilgrimage, adapting the layout to the current road conditions, and reaching many of religious sites (churches-monasteries-sanctuaries) touched by the pilgrims of the past, which are located along the coast, and are often within towns.
However, there are also several hiking tracts, which reach places of worship are located outside the towns, in the charming location surrounded by mountains and the sea.
This route, more than a trek, is to be considered an experience of life, to do a slow pace and with the right spiritual harmony, to be able to enjoy and live fully as a pilgrim. Along the way, you will overnight in simple but welcoming religious structures, where the pilgrims are always accommodated.
The maps I made for this route are very detailed and fully allow you to make the journey in complete autonomy, but who want to be a real pilgrim of the third millennium, and in strict conformity with the rules, I recommend also to deepen the information and practices on web-site of Calcagno and Rocchi
viadellacosta.it

---

ATTENZIONE / WARNING

ATTENZIONE: questo percorso non č sempre sottoposto a costante e periodica manutenzione con ripristino dei segnavia deteriorari e pulizia dei sentieri. Tale situazione potrebbe rendere questo tracciato non sempre evidente e facile da seguire.


Per questo motivo RACCOMANDO VIVAMENTE DI EFFETTUARE L'ITINERARIO MUNITI DI IDONEA CARTOGRAFIA E/O DI DESCRIZIONE DETTAGLIATA DEL PERCORSO.

WARNING: this path is not always subjected to constant and periodic maintenance with remaking of the damaged trail markers and cleaning of the pedestrian paths. This situation could make this path not always evident and easy to follow.


For this reason I STRONGLY RECOMMEND YOU TO CARRY OUT THE ITINERARY WITH SUITABLE CARTOGRAPHY AND / OR DETAILED DESCRIPTION OF THE ROUTE.

---
IL PERCORSO / THE PATH
DATI SINTETICI DEL PERCORSO / ROUTE DATA
Distanza totale / Total Distance: 346 km
Tempo / Time: 12-24 giorni/days
Il percorso ufficiale prevede 12 tappe (12 giorni), ma considerando che ogni tappa ufficiale risulta mediamente piuttosto lunga (circa 30 km), e quindi non alla portata di tutti, ho diviso ulteriormente ogni tappa in 2 parti. Cosė facendo l'itinerario č decisamente pių facile, e per percorrerlo sono necessari 24 giorni.
The official route provides 12 stages (12 days), but considering that each official stage is mean rather long (30 km abt.), and then not suitable for all people, I further divided each stage into 2 parts. In this way the route is much easier, and 24 days are required to make full route.
LE VARIE TAPPE / ROUTE STEPS
01-SARZANA - VOLASTRA
Distanza totale / Total Distance: 33 km
Tempo / Time: 8:00-9:00 ore/hours
(E' possibile dividere in due questa tappa facendo sosta a MARINASCO - 21 km da Sarzana - B&B Marinasco Via Montalbano 30)
(you can split in two this stage, stopping at MARINASCO - 21 km from Sarzana - B&B Marinasco Via Montalbano 30)
....................
....................

I DATI SINTETICI DELLE VARIE TAPPE SONO DISPONIBILI SU SPECIFICA RICHIESTA
THE SYNTHETIC DATA OF THE VARIOUS STAGES ARE AVAILABLE ON SPECIFIC REQUEST
---
DIFFICOLTA' / DIFFICULTIES

Secondo la scala CAI: compreso tra T ed E (a seconda delle tappe).
Si tratta di un percorso relativamente facile che transita su strade asfaltate a basso traffico, srade sterrate, mulattiere e comodi sentieri.

According to CAI scale: between T and E (depending on the step).
It is an easy route that passes on low traffic road, dirt roads, mule trails and easy trails.
IL SEGNAVIA CHE SI INCONTRA / TRAIL-SIGN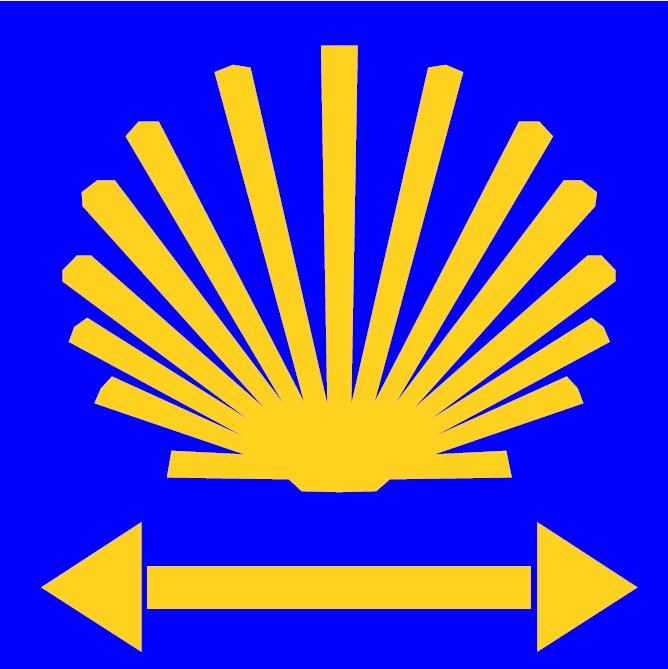 Il segnavia principale di questo itinerario e' costituito da una conchiglia gialla presente ai bivi principali. Inoltre lungo tutto il percorso sono presenti numerose frecce gialle. Alla data del 2020, tale segnalazione e' presente lungo tutto il percorso, anche se in alcuni tratti i segnali potrebbero essere parzialmente deteriorati o difficili da individuare. Comunque in molti tratti il percorso transita su strade sterrate e sentieri, che sono gia' segnalati tramite altri segnavia.

The main trail-sign of this route consists of a yellow shell present at the main crossroads. In addition, there are many yellow arrows along the entire routes. As of today (2021), these signals are present along the entire route, even if, in some sections, the signals may be partially deteriorated or difficult to identify. Anyway in many stretches the route passes along dirt roads and trails, where there are already other trail-signs.
---

LE CARTE DEL PERCORSO / ROUTE MAPS

Di questo lungo itinerario ho realizzato la cartografia di dettaglio di tutto il percorso.
Si tratta di una serie di carte di tipo Escursionistico, appartenenti alla mia collana mini MAPPE OUTDOOR ACTIVITIES, in scala 1:25.000 costituite da 35 tavole formato A3.
Su ogni tavola, oltre ai vari sentieri escursionistici, sono presenti indicazioni su:
- Il percorso della Via della Costa
- I vari luoghi che si incontrano lungo l'itinerario
- Dove e' possibile fermarsi per mangiare e per dormire (sia religiosi apposta per i pellegrini che generici per turisti)

TRACCIA GPS
Oltre alla Carte Escursionistiche ho anche realizzato la traccia GPS di tutto il percorso, che e' disponibile su specifica richiesta.

Of this long journey I made the detailed maps of the entire route.
They are Hiking Maps type mini MAPPE OUTDOOR ACTIVITIES in scale 1:25.000, and they consist of 35 Map-Sheets size A3.
On each Map-Sheet, as well as various hiking trails, there are indications of:
- All Via della Costa path
- Places along the route
- Where you can stop to eat and to sleep (both religious for pilgrims and generic for tourist)

GPS TRACK
In addition to detailed maps, I also created the GPS track of the full path, which is available on request.
---
QUADRO DI UNIONE DELLE VARIE CARTE DI DETTAGLIO DEL PERCORSO
PARTE EST - Tavole da 01 a 17
GENERAL VIEW OF MAP-SHEETS OF ROUTE
EAST SIDE - Map-Sheets from 01 to 17
Anteprima delle carte selezionando i riquadri delle varie tavole / Preview of Maps by selecting red box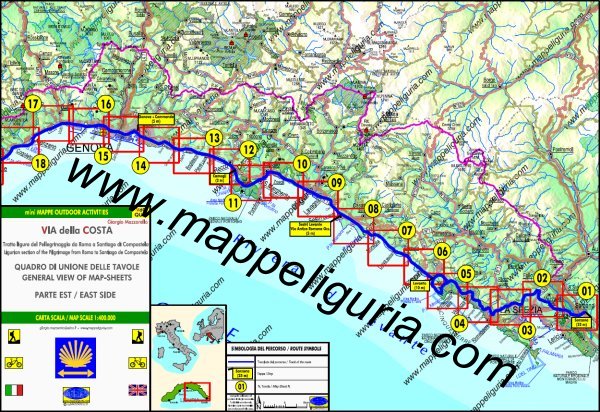 QUADRO DI UNIONE DELLE VARIE CARTE DI DETTAGLIO DEL PERCORSO
PARTE OVEST - Tavole da 18 a 35
GENERAL VIEW OF MAP-SHEETS OF ROUTE
WEST SIDE - Map-Sheets from 18 to 35
Anteprima selezionando le varie tavole / Preview by selecting each Map-Sheets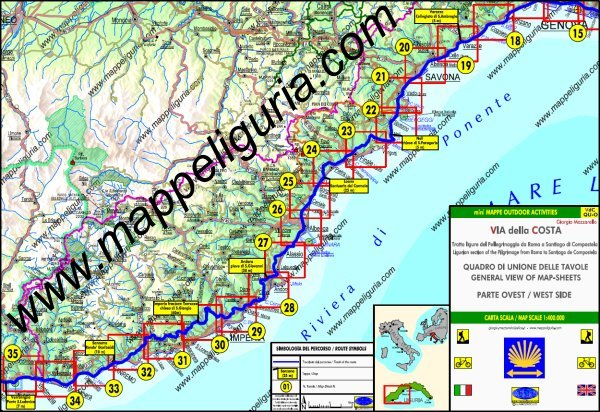 ---
NOTE /NOTICE

Pur avendo prestato la massima attenzione nel disegno della carta e nella tracciatura del percorso, a causa di eventuali errori od imprecisioni o giudizi soggettivi indicati, nonche' della mutevolezza del territorio, della variabilita' delle condizioni meteo, l'autore declina ogni responsabilita' per qualsiasi inconveniente o incidente che potrebbe verificarsi a chi effetua questo itinerario. Chi desidera effettuare questo percorso lo fa a proprio rischio e pericolo.

In the creation of maps and route tracking I have taken utmost care but, due to any possible errors or inaccuracies or subjective judgments indicated, as well as the changing nature of the territory, of the variability of weather conditions, and countless other factors, I decline any responsibility for any incident or accident that could happen to the people that run this route. Those wishing to go this route do so at your own risk.
---
Chiunque desiderasse avere maggiori informazioni sulle carte di questo itinerario, mi puo' contattare.
Do you want more information about maps of this route? Please write me