Itinerari TREKKING - Liguria
TREKKING routes - Liguria

Liguria-003
Sentiero Terre Alte / Terre Alte Path
---

DATA/DATE

2015-2017

---

NOTE GENERALI / GENERAL NOTES

Un lungo itinerario da fare in 4-6 giorni per scoprire i monti dell'immediato entroterra della Riviera delle Palme.
Dalle spiagge di Spotorno ai monti della Val Lerrone toccando il Melogno, il Pian delle Bosse, il Poggio Grande e il Monte delle Gettine.

A long journey to do in 4-6 days to discover the mountains of the immediate hinterland the Riviera delle Palme.
From the beaches of Spotorno to the mountains of Val Lerrone touching Melogno, the Pian delle Bosse, Poggio Grande and the Mount of Gettine.

---
DATI SINTETICI DEL PERCORSO / ROUTE DATA
Distanza totale / Total Distance: 120 km
Tempo / Time: 4-6 giorni/days
---
DIFFICOLTA' / DIFFICULTIES

Secondo la scala CAI: compreso tra T ed E (a seconda dei tratti).
Si tratta di un percorso relativamente facile che transita su strade asfaltate a basso traffico, srade sterrate, mulattiere e comodi sentieri.

According to CAI scale: between T and E (depending on the section).
It is an easy route that passes on low traffic road, dirt roads, mule trails and easy trails.
---
IL SEGNAVIA CHE SI INCONTRA / TRAIL-SIGN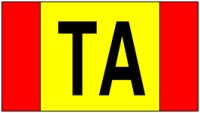 Il segnavia di questo itinerario e' costituito da una bandierina rosso-giallo-rosso con al centro la scritta TA

The trail sign of this route is a red-yellow-red flag with a central AV written.
---
ATTENZIONE / WARNING

Questo percorso non e' segnalato sempre in modo costante, in alcuni tratti i segnavia sono radi e deteriorati.
Per questo motivo consiglio vivamente di percorrere questo itinerario sempre muniti di adeguata e affidabile cartografia.

Questo percorso non e' segnalato sempre in modo costante, in alcuni tratti i segnavia sono radi e deteriorati.
For this reason, I highly recommend to make this route always with appropriate maps.
---
IL PERCORSO IN SINTESI / ROUTE SUMMARY

Riporto di seguito una breve sintesi dei vari luoghi attraversati dall'itinerario:

Here below is a brief summary of the various places crossed by the itinerary:
- Spotorno
- Monte Mao
- Colla di S.Giacomo
- Pian dei Corsi
- Colle del Melogno
- Rifugio Pian delle Bosse
- Balestrino
- Toirano
- Monte Poggio Grande
- Zuccarello
- Erli
- Monte delle Gettine
- Nasino
- Frazione Borgo di Nasino
- Frazione Costa di Onzo - Colla d'Onzo
- Frazione Ponterotto di Casanova Lerrone
- Frazione Bosco di Casanova Lerrone
- Chiesa di S.Bernardo
- Casanova Lerrone
- Poggio Bottaro
- Testico
- Passo di S.Giacomo di Chiusanico

E' possibile dividere il percorso in tappe a piacimento, fermandosi a pernottare nelle diverse localita' dove sono presenti le strutture ricettive.

The hiker can split the path at his pleasure, stopping to spend the night in different locations where there are the accommodations.
---
LE CARTE DEL PERCORSO / ROUTE MAPS


Per questo lungo itinerario ho realizzato la cartografia di dettaglio di tutto il percorso.
Si tratta di una serie di carte di tipo Escursionistico, appartenenti alla mia collana mini MAPPE OUTDOOR ACTIVITIES, in scala 1:25.000 costituite da 10 tavole formato A3.
Su ogni tavola, oltre ai vari sentieri escursionistici, sono presenti indicazioni su:
- Il percorso del Sentiero terre Alte
- I vari luoghi che si incontrano lungo l'itinerario
- Dove e' possibile trovare ristoro e/o alloggio.

TRACCIA GPS
Oltre alla Carte Escursionistiche ho anche realizzato la traccia GPS di tutto il percorso, che e' disponibile su specifica richiesta.

For this long journey I made the detailed maps of the entire route.
They are Hiking Maps type mini MAPPE OUTDOOR ACTIVITIES in scale 1:25.000, and they consist of 10 Map-Sheets size A3.
On each Map-Sheet, as well as various hiking trails, there are indications of:
- All Terre Alte path
- Places along the route
- Where you can find food and drink and / or accommodation

GPS TRACK
In addition to detailed maps, I also created the GPS track of the full path, which is available on request.
---

QUADRO DI UNIONE DELLE VARIE CARTE DI DETTAGLIO DEL PERCORSO
Anteprima delle carte selezionando i riquadri delle varie tavole

GENERAL VIEW OF MAP-SHEETS OF ROUTE
Preview of Maps by selecting red box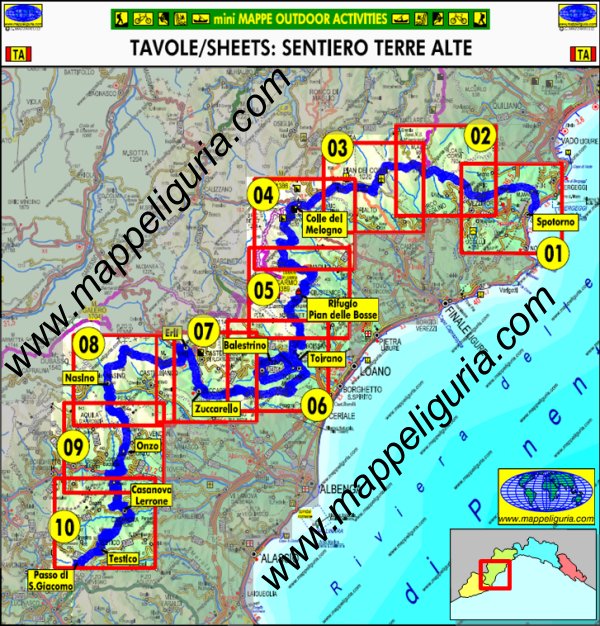 ---

Sei interessato a queste carte? CONTATTAMI

Are you interested in this group of maps? WRITE ME