Carte relative alla provincia di Savona e zone limitrofe / Maps of Savona district
Costa Centro Tavola SV-16 / Central Coast Sheet SV-16
LIGURIA
Finale Ligure
Bric dei Corvi - Bric Spaventaggi
Capo di Caprazoppa - Capo Noli
Punta Crena - Baia dei Saraceni
Altopiano delle Manie - Foce dell'Aquila
SIC Finalese - Capo Noli
Via Julia Augusta della Val Ponci
Siti di Arrampicata Sportiva del Finalese
Siti di Arrampicata Sportiva di Capo Noli
Via della Costa
Sentiero Liguria

Condizioni di utilizzo della presente carta
Istruzioni sulla consultazione
Clicca sull'immagine sottostante e attendi qualche secondo
Ogni Tavola ha la dimensione di un foglio A3 (420x297 mm)
Per ogni Tavola ho anche realizzano la versione Custom Map da caricare sui ricevitori GPS.
Questo formato non e' consultabile su queste pagine ma e' disponibile su richiesta.
Alla seguente pagina mMOA-EsempiDownload la possibilita' di scaricare una Tavola di esempio nei vari formati.
ATTENZIONE: la Tavola e' memorizzata in BASSA DEFINIZIONE e la consultazione on-line ha il solo scopo di fornire una visione generale della carta senza permetterne il reale utilizzo - non ne e' cosentito il download

Terms of use about this map
Instructions on viewing
Click on the image below and wait
Each Sheet has the size of an A3 paper (420x297 mm)
For each Sheet I have also prepared the Custom Map version, to store inside GPS receivers.
This map format is not present on these web pages but it is available on request.
On following webpage mMOA-EsempiDownload you can download an example of Sheet-Map.
WARNING: this map Sheet is stored with LOW RESOLUTION and the pourpouse of on-line is to provide a overview of map without allowing the real use - download is not allowed
Sei interessato a questa carta in ALTA RISOLUZIONE? CONTATTAMI
Are you interested about this map with HIGH RESOLUTION? WRITE ME
Segni convenzionali / Conventional signs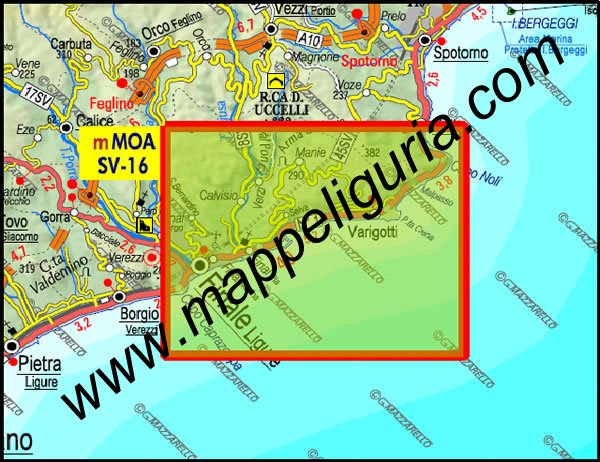 | | |
| --- | --- |
| Apr 2016 | Aggiunto Sentiero Liguria |
| Mar 2014 | Corretto alcuni sentieri nell'Altopiano delle Manie |
| Gen 2013 | Aggiornato e corretto sentieri ed info zona Capo Noli |
| Ott 2012 | aggiunto percorso "Via della Costa" |
| ago 2010 | prima emissione |